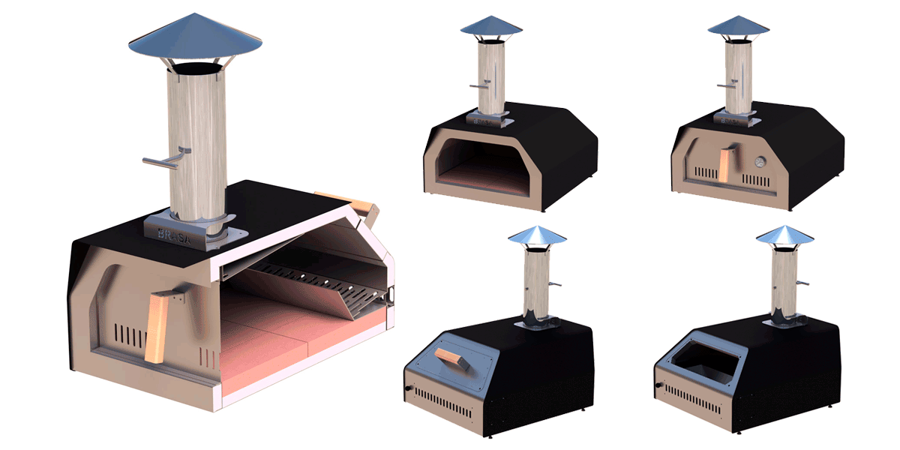 Outdoor pizza oven BRASA Città
the best outdoor pizza oven
The most robust and user-friendly outdoor pizza oven we have ever developed.
Totally designed and manufactured in Portugal by BRASAOVENS™ LDA.
(Goto the outdoor pizza oven BRASA Città page to find out more) 
This pizza oven is made with the best thermal insulation (ceramic blanket insulation capable of holding up to 1200º Celsius) and equipped with refractory bricks that will store the extreme temperatures that the oven reaches internally for many hours.
The oven comes standard with a full chimney, a thermometer built into the door 0-500º Celsius / 32-940º Fahrenheit and a FireBox where you burn the wood logs. 
The firebox (image to the right) is made of 1.2 mm thick stainless steel and is used to burn wood. It's designed with an ash collection system for easy cleaning of the oven. So, after the oven cools down you just have to pour the ashes into the waste bucket, and the oven is ready to be put away.  
The lid at the back of the oven, also fully insulated with ceramic blanket, makes it easy to access the fire and feed it with more wood whenever necessary. Thus, you feed the fire inside the oven with great ease and safely.
This oven reaches a temperature of 500º Celsius in 20 minutes.
Beware! this oven is not limited to making pizzas, it is big enough to cook a small turkey and other roasts, grills or stews.
­­It has a large internal cooking surface of 47x47 cm. The door is 40cm wide by 18,5cm high.
Powerful, versatile and easy to use because when it comes to cleaning and putting it away, it's quick and easy, just pour the ashes out of the firebox and the oven is ready for you to put away.
The oven weighs only 25 kg without the refractory stones and 35 kg fully equipped and ready to cook, which makes it easy to handle by a single person.


Looking for the best pizza oven whether town or country? look no further...
this is the pizza oven you want!