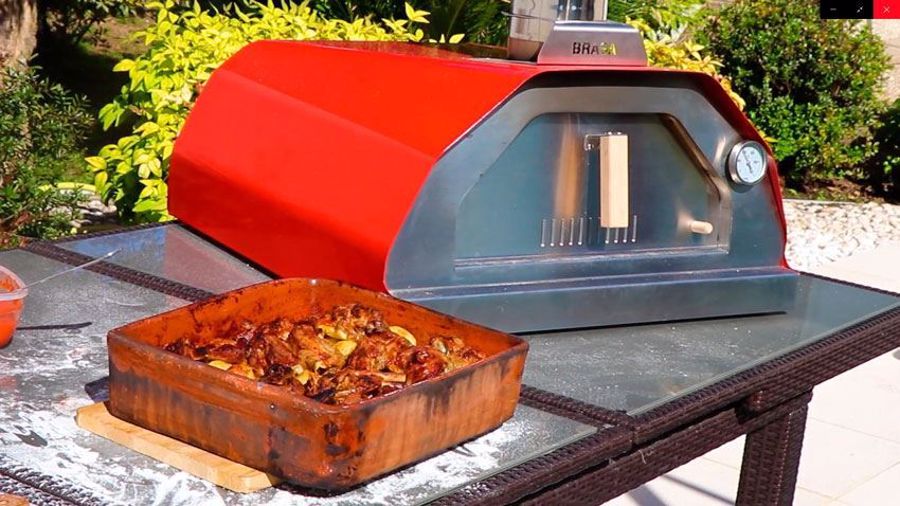 The wood-fired pizza oven "BRASA" is entirely manufactured in Portugal.
This oven is designed to cook all the dishes that the traditional oven cooks but with very low consumption of firewood, and with the additional advantage of reaching very high temperatures in a fraction of the time compared to the traditional oven - thus, you light the oven and 15 minutes later you are cooking.
Advantages of this oven over the traditional one, made with bricks and refractory cement, are:
Extremely reduced firewood consumption. It consumes approximately 1 kg of firewood/hour to maintain a constant temperature of 250ºC.
The speed ​​at which it reaches cooking temperature; it's able to reach 450ºC in just 15 minutes.
Its 60 kg weight allows two people to carry it and put it in place with ease.
Ease of cleaning; just take the ashes into a bucket and wipe the stainless steel surfaces with a cloth with water and soap.
It is maintenance-free because it doesn't crack nor does the color fade; it always looks new.
The BRASA outdoor woodfired oven is an oven you can trust for its robustness and allows the pizza lover to make two pizzas at the same time in less than 90 seconds.
This oven has a large internal cooking area of ​​600x600mm. It weighs only 60kg fully equipped and ready to cook. It can be placed on a tabletop or stand. It is easily transported in the garden or patio by two people. It fits in the trunk of a medium-sized car, such as a TOYOTA Auris, allowing you to take it anywhere. If you have a caravan for the holidays, take it with you! Plus, if you're not using it, you can lend it to friends or family...
Made in Portugal with the highest quality materials, the BRASA portable wood-fired oven allows you to do everything a traditional brick oven cooks. With its large internal area, it allows you to cook roasts with meat or fish, bread, pizzas, stews, etc. with the absolutely unique taste and aroma of the wood-fired cooking.
The BRASA is manufactured in 304 stainless steel laser cut and fully insulated, and comes with a removable chimney, an integrated 500°C thermometer, 4 refractory bricks totaling 20 kg of refractory mass inside the oven.
see the oven in action